Earthshine Nature Programs and Trails Science is working to develop an environmental education classroom and wildlife rehabilitation facility powered by clean, renewable energy!  Our goal with this wonderful, forward-thinking project is to drastically reduce our carbon footprint and eventually remove our dependence on fossil fuels by taking advantage of the most renewable energy source in our little corner of the galaxy – THE SUN!
This 5.3 kilowatt photovoltaic solar array will not only supply our classroom with renewably generated solar power but it will be a bold teaching tool for the students and visitors of Trails Carolina, The Academy at Trails Carolina, participants of our outreach programming, and our online visitors. It will offer our students a myriad of learning opportunities in Science, Technology, Engineering, Art and Mathematics (STEAM ) education, project-based learning initiatives, environmental education, and energy conservation experiences. It will also provide a unique web interface technology that will allow the system to be monitored in real-time by our students in class on our campus and anyone from anywhere on the planet via our website and blogs! 
Once online, this solar farm will not only provide much of the power used by the science classroom but it will also provide enough solar generated electricity to power the ENP nonprofit outreach education vehicle, an all-electric Nissan Leaf !
Why Solar?  It is clear that our dependence on fossil fuels is getting us into hot water with climate change, local and international resource, land rights, human rights, political and international issues.  The consensus among almost all the world's scientists and forward thinkers agree that it is time to begin the phase-out of fossil fuel powered energy and transportation sources and ramp up the adoption of renewable energy and electric vehicle technologies to power and to move our society.  On top of all these reasons it is just the smart and responsible thing to do.  
By installing this one of a kind solar power station at our classroom, our students and visitors will benefit greatly from the applied use of renewable energy technologies in class by experiencing the first hand functioning of real world, renewable energy applications such as solar-electric power, and electric vehicles.  
In our unique solar powered science classroom our students will bust through the negative myths often associated with renewable energy and electric vehicles by studying first hand, and assisting with the maintenance of, fully functioning solar and EV technologies in class.  After leaving Trails our graduates will be more up to date, connected, and ready to accept the reality of, and make use of, sustainable, clean energy power and transportation systems to power their lives and their futures.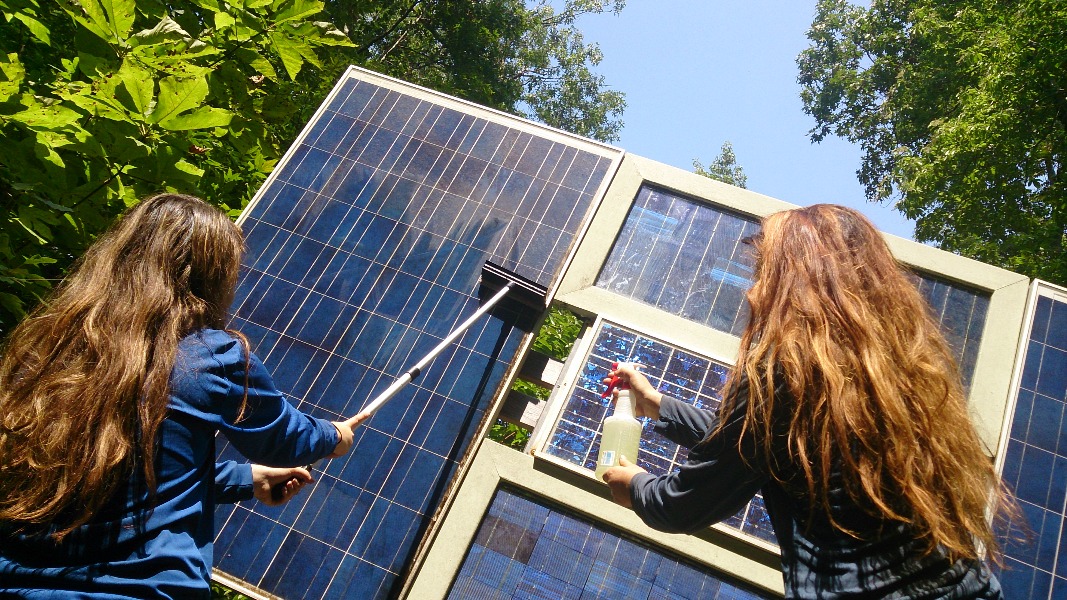 Students cleaning the 600 watt student built solar aray constructed as a pilot project in 2014.
BACKGROUND
In the fall of 2015 we received a wonderful donation of 20 - 240 watt solar modules (panels) from Frank Marshall of FLS Energy (now Cypress Creek Renewables ) in Asheville, NC!  We placed the modules in storage until a time when they could be installed. 
To make our grand solar vision a reality we partnered with Black Bear Solar Institute (BBSI) in Towensend, Tennessee with the goal of installing a state of the art off-grid solar array that will allow the Trails Science and Nature Center to one day become fully self-powered by the sun!  In October of 2016, in working toward this reality, the students and I broke ground and began installing this new solar array! Follow the updates below in working toward the day our solar array will go online.
Following this amazing solar module donation, Bob Harris of BBSI donated many of the primary components including the SMA Inverter, solar array support racking, wiring and conduit to our project!  WOW!!
  THANK YOU BOB AND BBSI!
Following these amazing doantions both Bob Harris, and friend Jim Hardy offered to donate their time and expertise to the project in the form of technical and construction assistance - and construction began. 
--------------------------------------------------------------------------

PROJECT UPDATES
UPDATE #1 DATE: 9/15/16. The solar array's support structure was delivered today!
UPDATE #2 DATE: 10/30/16 Over the weekend Jim Hardy and I installed the header boards that will hold the bracketing system that will be the top support of the solar array.
UPDATE #3  DATE: 11/1/16 Today in class the students and I moved some soil from the area where the solar array support pilings will be anchored and Jim Hardy and I constructed and attached the bracketing system that will connect the array's support framework to the building.
UPDATE #4 DATE: 11/5/16 Today I worked with Jim Hardy and ENP intern Blaine to install the first trusses for the solar array support framework! Below is a photo of Jim and I and the new framework after installation - it is finally taking shape :-)  Note our classroom's pilot 600 watt solar project in the background - still cranking out power after two years of operation!  
Update #5 Date: 12/17/16 Today we moved one step closer to pouring the concrete for the footings when ENP intern Blaine worked to install and level the forms. 
 UPDATE #6 Date: 1/20/17 The classroom solar array primary construction is COMPLETE! After several months of work by my students, interns, Jim Hardy and Bob Harris we have completed our classroom solar array!  It is truly a beautiful thing to know that soon we will be producing our own renewable energy, giving our education animals and classroom/office a more stable power system, reducing our carbon footprint, and above all educating our youth on good energy choices to power their futures with clean energy! Now we only need to fund the components that will allow it to connect the array to the building's power grid and then we will start producing clean, renewable energy from the sun!  
UPDATE #7 Date 3/26/17 I have completed a video documenting the construction of the solar array.  View it through this YouTube link and read all about it on this Wordpress blog post I authored on the ENP blog. 
UPDATE #8 Date 4/3/17 Almost everything is in place to turn on the power to our new solar array however, we lack the storage batteries that will store power for use by the habitat and building's systems at night or during bad weather.  Funding the batteries are the primary reason we have created this fundraiser and our GoFundMe campaign.  Please help us raise the funds to buy the batteries to make this solar power station operational.  
 UPDATE #9 Date 7/10/17 Much has happened over the last few months.  For many reasons we decided to temporarily shift our focus from an off-grid system with batteries to a power-grid-tied system that does not rely on batteries yet will still provide solar power to the classroom, animal habitats, and electric outreach vehicle.   We have decided to go this route due to lack of funds at this time but we will continue to work toward the new end goal of a hybrid system with a grid-tied solar array and battery storage bank.  These decisions have allowed us to bring our solar array online much faster and therefore lower our reliance on dirty coal power by offsetting our carbon footprint sooner rather than later. 
Bob Harris of BBSI wiring up the solar modules. 
In fact, over the July 4th week Bob Harris of Black Bear Solar Institute installed the final components on the grid-tied system and powered up the array for the first time!!  YES!  Our student-built solar array is now producing clean energy!  While the array is functional it is not yet tied to the building's grid.  This final connection will take a few more weeks due to all the paperwork and inspections required by Duke Energy.
 Bob Harris of BBSI wiring up the SMA Inverter. 
In the meantime we can make use of up to 2000 watts of this clean solar sourced energy via a "Secure Power" circuit that is a component of the SMA inverter.  We are now putting this power to good use each day by powering the classroom presentation computer and audio-visual system during class :-) Twice we have also used the "Secure Power" circuit to provide electricity to key systems when the building has experienced power outages for several hours due to a fallen trees during storms. Great progress is being made and soon we will be grid tied and fully online and producing clean solar energy for the students, the animals and for the future!  
 The solar array as seen from our student planted organic garden.
  UPDATE #10 Date 7/16/17 Over the last week we have had the good fortune of being the recipiant of a remarkable donation of a high power Clipper Creek Level 2 Electric Vehicle Charging Station by David Thompson of Pineshore Energy - THANK YOU David!!  
Jim Hardy stopped by to help us install the EVSE - thanks Jim! 
This piece of state of the art Electric Vehicle Supply Equipment (EVSE) will charge the ENP outreach vehicle - a 2012 Nissan Leaf electric vehicle - using renewably generated electricity from our student built classroom solar array!  On top of all that awesome Pineshore Energy is working on a smart EVSE power monitoring system and will be partnering with us to use our classroom for one of it's beta testing sites! More on this later.
Myself, Jim Hardy, Dave Thompson and Bob Harris installng and testing the Clipper Creek EVSE charger on the ENP outreach vehicle.    
I will continue to post updates and photos on this page throughout this fundraising campaign.
---------------------------------------------------------
The outline below shows all of the primary components that have been donated to Phase One of this project – they include.  

*The Solar Modules (Panels). 22 - 240 watt solar modules – donated by Frank Marshall of FLS Energy, a local utility scale solar installation company from Asheville, NC. Approximate value at time of donation: $10,000
 
*The charge controllers.  Two (2) Morningstar 600 Volt charge controllers with DC disconnects –Donated by Bob Harris of BBSI. Value: $3,600. These devices will monitor the output of the solar panels and the needs of the batteries and regulate the power as the batteries need it.  They are "smart" devices that will allow us to monitor their status from anywhere with an internet connection.
*SMA Inverter with Secure Power. Donated by Bob Harris of BBSI. Value $1700.  Meters and regulated the power from the array and changes solar DC to grid AC power and feeds power into building's grid. Provides "Secure Power" circuit allowing for up to 2000 watts of power during grid outage. 

*Electrical Panels, Wiring and Conduit for the Solar Control System. Donated by Bob Harris of BBSI. Value: $600.00 
*Aluminum Racking for solar panels. Donated by Bob Harris of BBSI. Value: $3,922

*Construction materials.  Donated by Earthshine Nature Programs. Value $1800

*While not directly a part of the solar power system the below items have also been donated to our science classroom.  
These items will reduce the energy needs of our classroom thereby making our facility more energy efficient and in turn allowing us to make better use of the energy we produce on site via the solar array.
*LED Classroom lighting systems.  Donated by Trails Carolina/Academy. Value $300
*Four new low energy solid state computers with two low energy 4K LED monitors. Bob Harris of Siemens CorporationValue $13,188

*Energy star rated Samsung 55" flat screen TV.  Donated by Trails Carolina Naturalist & ENP Executive Director Steve O'Neil Value $700

*Electric motor and components for the conversion of a gas rototiller to electric for use in our organic garden.   Donated by Bob Harris of Siemens Corporation. Value $400
*Clipper Creek EVSE. Donated by David Thompson of Pineshore Energy. Value $~550
Other monetary donations to this project to date:  

$1000 donated by Jewell Mimms
$1000 donated by Dr. Billy Hagler
$500 donated by Dr. Linda Martinson and Andrew Stratton

  Total value of donations to date: $42,060
We have gratefully received these amazing and generous donations and have put them to good use in providing our classroom, students, and animal ambassadors with a soon to be fully operational solar array that will provide us with clean, site generated, solar electricity!
We will also continue to work to move toward the future completion of Phases II (and later Phase III) in order to complete our system as envisioned.  Currently we lack only a few key components that will allow this system to function as intended. These needed components are listed below. 
Phase Two 
After our solar array is grid-tied, online, and producing clean electricity, we will begin fundraising on phase two of this project. Phase two will allow us to complete our off-grid/grid tied/battery back-up hybrid solar power system. To reach this goal we will need to source the following components. 
Storage Batteries - Trojan L16 AGM Batteries  (or comparable* as decided by Bob Harris of BBSI ) Use: Stores electricity for nighttime/cloudy day useNumber needed: 16*Cost: Each around $400Total Need: $6,400Source: Bob Harris will arrange with a supplier to save on cost and shipping.If you would like to support us with a donation of these batteries please contact us.  If you would like to donate funds to cover the cost of these batteries anonymously please do so via this campaign or through the
PayPal link on our Donate Page. 

SMA Sunny Island and battery management system.  (As directed by Bob Harris of BBSI) Cost: ~$12,000These units will allow our hybrid power system to communicate with the solar array, storage batteries, and power grid allowing us to function as an off-grid solar power station most of the time but keep our grid connection for times of extended rainy low light weather. If you would like to donate funds to cover the cost of these components please do so via this campaign or through the PayPal link on our Donate Page. 
The above listed components are the only remaining components needed to make Phase II of our solar power system operational.

Once Phase II is online and functional we will then proceed to Phase III.
Phase III
The final phase of our classroom solar project will involve searching for funding/component donations of the remaining solar modules (~7kw), inverter and racking system that will allow us to become net zero and receive ALL of our energy needs from the sun. 

While this fundraising campaign is currently working toward raising funds to support Phase Two of our classroom solar project, if you would like to support all of our projects with a sinigle doantion our total needs would be: $30,000.  If you would like to contribute the total amount please do so via this campaign or via the PayPal link on our donate page.
Please consider supporting us with any phase of our classroom solar projects - THANK YOU!